Interface Overview

The main window consists of two sections: Global Settings (top), and the Drum Pad List (lower).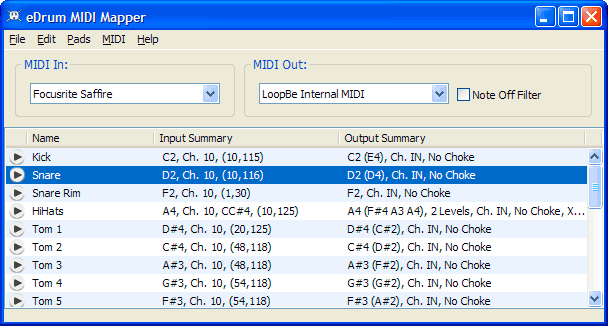 MIDI In
All data received on the selected MIDI input will be filtered by eDrum MIDI Mapper.
MIDI Out
The device or virtual output to send the filtered or echoed MIDI data.
Note Off Filter
Checking this option will ignore all note-off events received at the MIDI input. Only note-off events generated by eDrum MIDI Mapper will be sent to the output port. This can be useful when using volume envelope choking with sample sets that contain mic bleed and/or ambience samples to prevent ambient toms or snare hits (etc.) from being prematurely muted. Please see the Using Volume Envelopes for Cymbal Chokes and Hi-Hat Muting section for details on how to set up your sampler/rompler to use this type of choking mechanism.
Drum Pad List
The heart of eDrum MIDI Mapper is a fully customizable list of trigger mappings. Each item in this list (referred to as a Pad) can map directly to a drum trigger, trigger zone, or trigger and pedal combination. This list will be empty when you first launch eDrum MIDI Mapper.

---
Making MIDI Connections

Typical setup requires one hardware MIDI Input, and one virtual MIDI port: